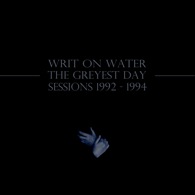 wicker (4:15)
to a castle is fallen (2:11)
careful (5:04)
withdrawn (3:25)
piano (5:02)
held close beneath the surface (7:35)
cape cod (3:48)
if your eyes were clouded (4:01)
windsor (4:45)
degeneration (4:43)
precarious (4:33)
dying (when time begins) (3:51)
misgiving (4:46)
Credits:
Words and music by Jeff MacKey
except Degeneration by Daniel Johnson (lyrical fragment by Jeff MacKey)
and Misgiving by Miles Williams, Daniel Johnson and Jeff MacKey
Mixed, produced and engineered by Writ on Water
MP3 mastering by Christopher Nandor
Art direction by Daniel Johnson
Remastered for re-release, 2008
All instruments performed by Jeff MacKey and Daniel Johnson
Band Notes:
These tracks were recorded at home on 4-tracks in preparation for what was intended to be Writ on Water's second release for Blonde Vinyl, to be titled The Greyest Day. After several years had passed and numerous requests, and with the assistance of Chris Nandor, these demos were cleaned up to the greatest extent possible and made available via mp3.com in 1999. Some of these songs had been performed live, but they did not receive proper studio recording. Re-recording these tracks in studio is a long-term goal which may or may not ever be fully realized, but new recordings of these pieces may appear over time.
From The Liner Notes:
These recordings consist of 4-track demos in preparation for what was intended to be our second album, The Greyest Day. These recordings were not made with the intention of being released commercially, and we hope that you will forgive the crackles and hiss. Special thanks to Pudge for all of his help in realizing this project.